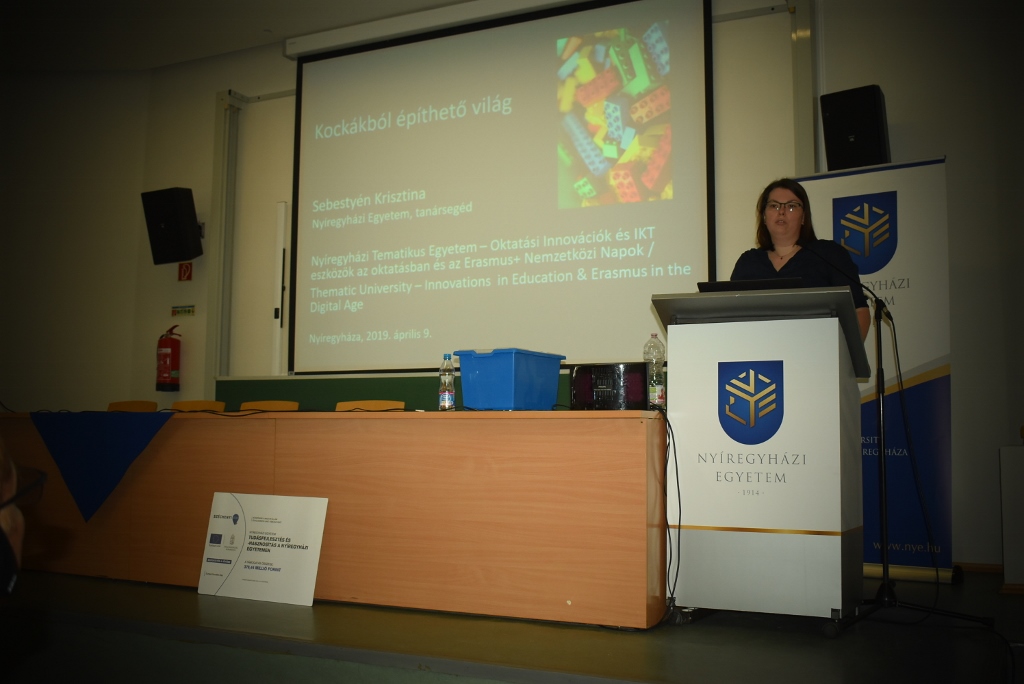 Once again, the University of Nyíregyháza organized International Days 2019. 8-10 April. Between. The EFOP-3.4.3-16-2016-00018 Knowledge Development and recovery at the University of Nyíregyháza, C. Funded by the project, a Thematic University in Nyíregyháza-Educational Innovations and an international conference on ICT tools in education. This was followed by the Erasmus + project in the framework of annex III. Erasmus + International Days-Erasmus in the Digital Age event.
The Hungarian and foreign guest speakers presented the experience and opportunities of the internationalization process through their own institutional examples. The keynote speakers included Dr. Pascaline Merten, the Université libre de Bruxelles, Belgium, Sylwia Solczak Melo from the Polytechnic Institute of Bragança, Portugal, Hannu Tikkanen, the Kajaani University of Applied Sciences University, Finland, and Dr. Melinda Nagy from the University of János Selye, from Slovakia.
The Thematic University 2019 The theme of digital innovation and the use of ICT tools in higher education. In the Conference on Digitalisation, the role of ICT in education, we presented the learning and teaching methods of the University of Nyíregyháza, supported by LEGO tools. Krisztina Sebestyén in the "Cube-built World" lecture on 21st The challenges of the century and the development of the player by learning.
The objectives of THE International Programme series were to promote the University of Nyíregyháza, to maintain cooperation with partner institutions abroad, to prepare international courses and to facilitate international mobility programmes. Motivation.
On The third day of the event, the International Relations Group of the Student Services Centre organised a cultural excursion to the county of Szabolcs-Szatalready-Bereg, the foreign exchange students currently studying at the University of Nyíregyháza and For the visiting instructors attending the conference.
The University of Nyíregyháza plans to host international days again next yea
r.Source:www.nye.hu